Content
Entered keyword "životní prostředí" yielded 2 results.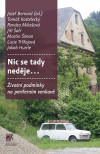 Authors:
Bernard, J. (ed.), Kostelecký, T., Mikešová, R., Šafr, J., Šimon, M., Trlifajová, L., Hurrle, J.
Kniha osmi autorek a autorů se zabývá životními podmínkami obyvatel venkovských periferií v Česku. Klade si zejména otázku, jestli bydlení v periferiích zvyšuje riziko různých forem sociálního znevýhodnění. Zkoumá postavení obyvatel venkovských periferií na trhu práce, jejic...
Authors:
Šustrová, Klára, Šimon, Martin
Changing life-style patterns in urban and rural environment has been a perennial topic in social science research. The differences between urban and rural gained different meaning and different significance today then they has had during industrial urbanization characterized with...