Content
Entered keyword "životní prostředí" yielded 2 results.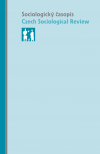 Authors:
Bernard, Josef, Kostelecký, Tomáš
Volební chování individuálních voličů je ovlivňováno různými prostorově definovanými faktory. Zpravidla se vliv takových faktorů obecně označuje jako kontextuální efekty. Kontextuální faktory ovlivňují voliče různými způsoby: skrze působení rozdílných lokálních geografických a so...

Authors:
Vlachová, Klára, Blanka Řeháková
Class interests play an important role in voting behaviour in the Czech Republic. The highest electoral turnout has been found among high professionals, the lowest among semi-skilled and un-skilled workers. Right-wing ODS is voted most often by middle and upper middle class (inde...