Content
Entered keyword "životní prostředí" yielded 3 results.

Authors:
Smith, Joe, Kostelecký, Tomáš, Jehlička, Petr
This paper questions assumptions about the relationship between class formation, sustainability and patterns of consumption. The empirical elements of the research are based upon qualitative and quantitative time-series research into food self-provisioning and 'quiet sustai...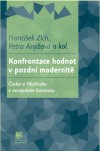 Authors:
Zich, František, Anýžová, Petra (eds.)
Kniha se zabývá působením modernizačních a globalizačních trendů na hodnotové orientace, normy a klíčové aspekty životního způsobu české a hlučínské populace v evropském kontextu. Poznatky z lokálního výzkumu na Hlučínsku slouží ke konfrontaci s modernizací v jiných situacích a u...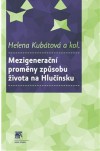 Authors:
Kubátová, H., F. Zich, F. Znebejánek, P. Anýžová, O. Roubal
Kniha se zabývá tím, jak se v průběhu tří generací (z)měnil pospolitý, pracovní, rodinný a náboženský život na Hlučínsku. Je zaměřena na období zhruba od konce druhé světové války po současnost. Zahrnuje tedy více než šedesát let, během kterých obyvatelé Hlučínska uzavírali sňatk...