Content
Entered keyword "životní prostředí" yielded 3 results.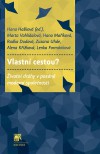 Authors:
Hana Hašková (ed.), Marta Vohlídalová, Hana Maříková, Radka Dudová, Zuzana Uhde, Alena Křížková, Lenka Formánková
The book is innovative in applying both, quantitative and qualitative life-course research methodology. The authors analyse the transformation of partner and family arrangements and identify problems connected with achieving a work-life balance in Czech society. The book explains...
Authors:
Hašková, Hana, Uhde, Zuzana (eds.), Maříková, Hana, Křížková, Alena, Vohlídalová, Marta, Dudová, Radka, Pulkrábková, K., Vojtková, Michaela, Leontiyeva, Y.

The article is dedicated to changes that have occurred in Czech obstetrics over the past decade. Although the text is dedicated especially to topical, social and medical changes in Czech obstetrics, the fact that permanent medical as well as social changes in childbirth...