Content
Entered keyword "životní prostředí" yielded 2 results.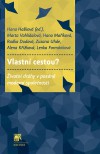 Authors:
Hana Hašková (ed.), Marta Vohlídalová, Hana Maříková, Radka Dudová, Zuzana Uhde, Alena Křížková, Lenka Formánková
The book is innovative in applying both, quantitative and qualitative life-course research methodology. The authors analyse the transformation of partner and family arrangements and identify problems connected with achieving a work-life balance in Czech society. The book explains...

Authors:
Řeháková, Blanka
This paper deals with social contacts and social support among parents and children, among siblings and also among secondary kins. The data for this study come from the survey Social Networks (ISSP 2001).