Content
Entered keyword "životní prostředí" yielded 2 results.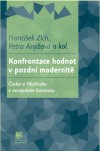 Authors:
Zich, František, Anýžová, Petra (eds.)
Kniha se zabývá působením modernizačních a globalizačních trendů na hodnotové orientace, normy a klíčové aspekty životního způsobu české a hlučínské populace v evropském kontextu. Poznatky z lokálního výzkumu na Hlučínsku slouží ke konfrontaci s modernizací v jiných situacích a u...

Authors:
Řeháková, Blanka
This paper deals with social contacts and social support among parents and children, among siblings and also among secondary kins. The data for this study come from the survey Social Networks (ISSP 2001).