Content
Entered keyword "age and ageing" yielded 3 results.

Authors:
Tuček, Milan, Hana Friedlaenderová, MEDIAN
The publication starts with a description of the demographic and social structureof households followed by the analysis of the income differentiation. This is followed by a chapter on the househods amenities. The next chapter deals with a detailed the behavior of people in the ar...
Authors:
Straková, Naděžda
Pěstování vlastní zeleniny a ovoce se v posledních letech opět stalo oblíbeným koníčkem. S urbánním geografem a antropologem Petrem Gibasem o historii českých zahrádkářských kolonií. V čem se české osady liší od svých evropských obdob? Jaké má zahrádkaření cel...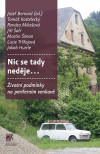 Authors:
Bernard, J. (ed.), Kostelecký, T., Mikešová, R., Šafr, J., Šimon, M., Trlifajová, L., Hurrle, J.
Kniha osmi autorek a autorů se zabývá životními podmínkami obyvatel venkovských periferií v Česku. Klade si zejména otázku, jestli bydlení v periferiích zvyšuje riziko různých forem sociálního znevýhodnění. Zkoumá postavení obyvatel venkovských periferií na trhu práce, jejic...