Content
Entered keyword "education" yielded 2 results.
The author argues that there were four critical junctures that institutionalized a specific path of childcare in the Czech Republic. This policy path established the norm that mothers stay at home with children for 3 years and it also led to one of the highest percentag...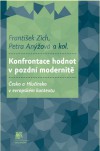 Authors:
Anýžová, P., Kubátová, H., Matějů, P.