Content
Entered keyword "globalisation" yielded 3 results.

Authors:
Smith, Joe, Kostelecký, Tomáš, Jehlička, Petr
This paper questions assumptions about the relationship between class formation, sustainability and patterns of consumption. The empirical elements of the research are based upon qualitative and quantitative time-series research into food self-provisioning and 'quiet sustai...
Tento projekt byl řešen v rámci Strategie AV21 v programu: Rozmanitost života a zdraví ekosystémů (ROZE) - http://av21.avcr.cz/vyzkumne-programy/09-rozmanitost-zivota-a-zdravi-eko...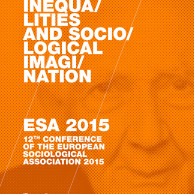 Na konci srpna, 25.–28. 8. 2015, se bude v Praze konat významná, již 12. mezinárodní sociologická konference Evropské sociologické asociace. Zúčastní se jí rekordní počet 3500 vědců a vědkyň, především z Evropy, ale i z mnoha mimoevropských zemí. Konferenci pořádá Sociologický ús...