Content
Entered keyword "identity" yielded 3 results.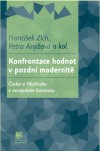 Authors:
Zich, František, Anýžová, Petra (eds.)
Kniha se zabývá působením modernizačních a globalizačních trendů na hodnotové orientace, normy a klíčové aspekty životního způsobu české a hlučínské populace v evropském kontextu. Poznatky z lokálního výzkumu na Hlučínsku slouží ke konfrontaci s modernizací v jiných situacích a u...

Text se zaměřuje na alternativní životní styly a subkultury v Česku definované jinak než vztahem k hudbě a mládeži a využívá při tom koncept subkultury kulturních kreativců (Ray, Anderson, 2000), který souvisí s konvergencí sociálních hnutí a kontrakultur od 60. let minulého stol...

Authors:
Nešpor, Zdeněk R.
The proceedings contains nine papers, that concern with the various issues of Czech and European popular culture of the early modern era. Papers by J. Horsky and D. Tinkova covers the issue theoreticaly, why those by Z. R. Nespor, I. Kusnirakova, H. Sobotkova, J. Wolf, I. Cermano...