Content
Entered keyword "kultura" yielded 2 results.
The article describes areas, where actions to promote gender equality in organisations are needed: professional development, organization of work and the culture of work environment. It deals with a concept of mentoring in management and possibilities to introduce work...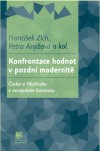 Authors:
Zich, František, Anýžová, Petra (eds.)
Kniha se zabývá působením modernizačních a globalizačních trendů na hodnotové orientace, normy a klíčové aspekty životního způsobu české a hlučínské populace v evropském kontextu. Poznatky z lokálního výzkumu na Hlučínsku slouží ke konfrontaci s modernizací v jiných situacích a u...