Content
Entered keyword "media" yielded 3 results.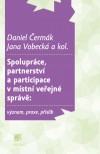 The main objective of this book is to analyse the processes of cooperation, partnership and participation in local public administration. The authors ask: How local actors understand to these processes, what are main assets and shortcomings of mentioned processes? The book contai...

The chapter analyses information about cooperation between municipalities published in mentioned magazines between January 2001 and September 2005. General information about both magazines and about published contributions are presented. Main attention is focused to areas of coop...

Authors:
Škodová, Markéta, Vlastimil Nečas (eds.)