Content
Entered keyword "sociologická teorie" yielded 2 results.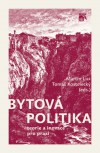 Authors:
Lux, Martin, Tomáš Kostelecký (eds.)
The objective of the book is to inform social sector practitioners, policy makers, government officials and analysts about the specific features of housing market operation and discuss the role of housing policy in general and in the Czech Republic in particular. In the second se...

Authors:
Linek, Lukáš, Štěpán Pecháček
This study describes the socio-demographic structure of the membership base of the Christian Democratic Union – Czechoslovak People's Party (KDU-ČSL) and the party's voters. It is based on a questionnaire survey carried out among the party's memb...