Content
Entered keyword "sociologická teorie" yielded 3 results.
Authors:
Sedláčková, Markéta, Jiří Šafr
The article presents sociological concepts of social cohesion as the base for the survey of social equality on macro societal level. The empirical part, based on the public opinion Our society 2004 and 2005, discusses opinions of Czech people on the notion of social cohesion and...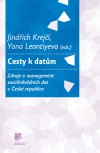 Chapter examines data sources of family research. The overview is limited to studies carried out in the last decade and those for which data are publicly available. The author provides an overview of relevant surveys and statistics on families, as well as information about where...

The chapter deals with methods for getting and interpreting data relevant for measuring attitudes toward foregners.