Projekt podporovaný Evropskou komisí v rámci programu H2020-MSCA-ITN-2016 (Marie Skłodowska-Curie Innovative Training Networks)
Tým projektu PLATO tvoří síť předních evropských univerzit a výzkumných organizací a odborníků z oblasti poradenství, konzultačních služeb v oblasti politiky a občanského sektoru. V současné době se na partnerských univerzitách a výzkumných institucích v Antverpách, Berlíně, Cambridge, Krakově, Oslo, Paříži, Praze, Twente a ve Vídni vzdělává patnáct doktorandů/ doktorandek.
V Sociologickém ústavu AV ČR, v.v.i., bude Ph.D. student/studentka studovat v rámci společné akreditace (SOÚ a FSV UK) doktorského studia na FSV UK.
Professor Christopher LORD, ARENA, Centre for European Studies, University Oslo, Norway
Publikace vydané v rámci projektu (celkem 3, zobrazeno 1 - 3)
The monograph investigates and linkages between the EU's democratic legitimacy and the crisis of representative democracies in the contemporary EU.
Téma:
trust/social cohesion, EU, corruption, legitimacy, politics (and political attitudes)
Oddělení:
Political Sociology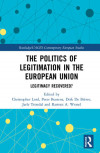 The book examines and investigates the legitimacy of the European Union by acknowledging the importance of variations across actors, institutions, audiences and context. The book chapter examines the role of the national parliaments and party politics in exercising the legitimization strategies in contemporary representative democracies.
Téma:
trust/social cohesion, EU, legitimacy, politics (and political attitudes)
Oddělení:
Political Sociology
Typ publikace:
Chapter in monograph

Téma:
EU, legitimacy, social policy
Oddělení:
Political Sociology
Typ publikace:
Peer-reviewed journal article
Attached links
Attached files