The project focuses on the time and space of homeless persons in relation to conditions of a post-socialistic city. Its goal is to describe characteristics, life and time-space paths and everyday life of homeless people in the context of two Czech cities. The project is unique in many ways. It is the first comparative research on homelessness in the Czech Republic, which is focused on previously neglected topics such as specific time and timing of the activities of the homeless persons. As working with homeless people belonging to various categories of homelessness, it brings a new perspective to the dynamics of living in those types. The combination of research methods used in the project is also unique - as one of a few in Europe it uses empirical GPS devices for studying mobility. In the Czech Republic, it applies the previously unused method of RDS (respondent driven sampling) survey. The surveys and structured interviews are completed with ethnography and photovoice. It put strong emphasis on the active participation of the homeless in the data-collection. Apart from other results, the project provides visually attractive unique data about the situation on the street.
https://www.facebook.com/hobohemia.eu
housing
urban and rural studies
regions
social inequalities
Czech Science Foundation (GACR)
Publikace vydané v rámci projektu (celkem 11, zobrazeno 11 - 11)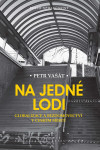 Kniha je interdisciplinární a multimetodologickou studií bezdomovectví v Česku. Autor v ní čtenáři ukazuje, jak se bezdomovectví zhmotňuje na průsečíku politickoekonomických faktorů, jako jsou demokratizace společnosti nebo integrace do globální ekonomiky, a specifických doprovodných logik vznikajících na pomezí kultury ulice a určitých podmínek charakteristických pro českou společnost.
Téma:
housing, economics, globalisation, urban and rural studies, human relations, regions, social inequalities, sociologická teorie, public policy, standard of living
Oddělení:
Local and regional studies
Pages